Lothar Linhard (VP Engineering & CTO)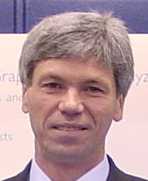 Lothar serves as VP, Engineering and Chief Technical Officer since he co-founded the company in 1990. With a strong background in software engineering and EDA technology, and with over 25 years experience he oversees and coordinates all technology and product development. He is the key architect of the Nlview product line and manages the ongoing product development and product strategy.
Lothar received a Diplom-Informatiker (FH) degree (computer science) from the Fachhochschule (University for Applied Science) in Furtwangen, Germany. In industry he was trained in computer electronics with Kienzle Apparate, Villingen, Germany and later with Nestler Electronics, Lahr, Germany where he co-developed a CAD system for mechanical design applications. At those times, he also gave classes in Unix and C++ in industry and university.